The V8 is an iconic engine configuration and is considered the sweet spot in internal combustion engine design. It provides a great balance between torque, horsepower, smoothness, size, and fuel economy. The distinct sound of a V8, however, is something special.
Even with a factory muffler, a V8 engine has a distinct, uneven, and throaty rumbling. That said, a good quality aftermarket muffler could complement the distinct sound characteristics of the V8 and take the iconic sound to a whole new level.
So, if you've decided it's time to finally let your V8 roar freely with an aftermarket muffler, then you're in luck as we've done the research for you and found the best mufflers for a V8 on the market today.
Related: Best Mufflers for V6
---
The 5 Best Sounding Mufflers for V8
Best Overall

Flowmaster 953047 Super 40



Loudness:

8/10 (Reasonably Loud)

Design:

Chambered

Deep & Aggressive Growl

Check Price On Amazon

Best Performance

Borla XR-1 40085



Loudness:

9/10 (Loud)

Design:

Glasspack

Aggressive Rumble

Check Price On Amazon

Best Value

Cherry Bomb 87522 Glasspack



Loudness:

9/10 (Loud)

Design:

Glasspack

Deep Roar

Check Price On Amazon

MagnaFlow 10416



Loudness:

9/10 (Loud)

Design:

Glasspack

Deep & Throaty Tone

Check Price On Amazon

Thrush 17658 Welded



Loudness:

7/10 (Moderate)

Design:

Chambered

Signature Vintage Rumble

Check Price On Amazon
---
Flowmaster Super 40 –

Best Overall
Designed by Flowmaster – a legend in the aftermarket exhaust world, the Super 40 series mufflers offer an outstanding balance between performance and great sound quality.
Sound & Performance
Designed with classic American muscle cars in mind, the Super 40 compliments V8 engines with a deep growl and more bass tones. The Super 40 series mufflers are more on the aggressive exterior sound level, therefore, they are reasonably loud but still somewhat tame.
At idle, the Super 40 sounds deep and reasonably quiet, but growling and aggressive at wide-open throttle. On the other hand, the drone on the highway is barely audible if at all.
The patented Flowmaster's Delta Flow technology, found in the Super 40, utilizes special sound chambers to reduce interior drone and keep your trips on the highway pleasantly quiet. In short, the Delta Flow technology uses delta-shaped baffles to separate sound waves of unwanted frequencies and cancel them out.
With that being said, there is even more to the Delta Flow than just noise reduction – the delta-shaped baffles also create a scavenging effect, that speeds up the exhaust gases and improves performance.
Construction
The muffler feels well made and weighs only 13.6 pounds (much less than a turbo style muffler). It's made from 16-gauge aluminized steel, which is a bit cheaper and less rust-resistant than stainless steel. The muffler is 100% MIG welded for added durability.
The Super 40 series mufflers come in various inlet and outlet diameters and configurations, so make sure you chose the right configuration for your V8. But to give you a rough idea, the Super 40 series are average in size when compared to chambered mufflers and measure roughly 20 by 10.5 inches with 5.5 inches thickness.
Pros
Ideal for high-performance V8s
Chambered design
Sturdy, 100% welded jacket
Delta Flow technology increases exhaust flow
Cons
Made from aluminized steel
---
Borla XR-1 40085 –

Best Performance
Borla's XR-1 Raceline mufflers are the go-to for performance V8 cars as they have been shown to provide even more flow than a straight piece of pipe during testing.
Sound & Performance
Borla's slogan "Sound Like Heaven Go Like Hell" actually describes the XR-1 pretty well. The XR-1 gives enhanced bass tones and more aggressiveness to a V8, while the uninterrupted-flow design actually outflows a straight piece of pipe.
The muffler is on the louder side and seems just a bit louder than the Flowmaster's Super 40 on higher revs. The drone, on the other hand, is definitely audible with the XR-1, as it is free-flowing and uses steel wool for sound reduction, but it's definitely tolerable and should not be a problem even on longer trips.
Construction
The build quality on the XR-1 is excellent. Made in the USA, the XR-1 is constructed from high-quality T-304 stainless steel, which brings the cost up but also provides outstanding resistance to rust. The contact points on the XR-1 are lap-jointed and 100% welded. In addition to that, Borla even offers a warranty for their mufflers.
Just like you'd expect from a premium manufacturer, the XR-1 raceline mufflers come in various inlet/outlet configurations and diameters. The XR-1 40085 measures 20 by 15 inches with 5-inch thickness. The muffler features a reversible design for more flexibility during installation.
Pros
Excellent flow and performance
Reversible design
Made from high quality T-304 stainless steel
100% welded casing
Cons
May be a bit too loud for some people
---
Cherry Bomb 87522 Glasspack –

Best Value
A legend among American V8 muscle car enthusiasts, the Cherry Bomb glasspack delivers the signature throaty growl without making a dent in your wallet.
Sound & Performance
Founded way back in 1968, Cherry Bomb mufflers have been successfully disturbing the peace with their signature deep and mellow sound for over 50 years.
The Cherry Bomb Glasspack was designed for performance in mind, thus the muffler allows for maximum flow, as there are no obstructions inside the muffler – only sound deadening fiberglass around the perforated central tube inside the muffler. On the other hand, because of its free-flowing design and compact size, the Glasspack is on the loud side.
Construction
One of the most distinctive visual features of the Cherry Bomb is the iconic bright red high-temperature paint. It makes the muffler stand out and protects the 100% welded aluminized steel body from the outside elements. Of course, aluminized steel is not as rust-resistant as stainless steel, but that's not a problem with Cherry Bomb, as the red paint serves as an additional protective layer.
The look of the Cherry Bomb 87522 Glasspack largely resembles a resonator, because of its incredibly compact design. The key to achieving such a compact size is the straight-through construction that emphasizes maximum flow.
As a result of its compact and reversible design, the Glasspack is easy to fit and incredibly light – only 4 pounds. Cherry Bomb, of course, makes their Glasspack mufflers in various shapes, diameters and offsets, thus the Glasspack should fit every V8 truck and car.
Pros
Great performance and flow
Lightweight and very compact
Comes with the signature Cherry Bomb bright red high temperature paint
Works great as a resonator
Cons
Made from aluminized steel
---
MagnaFlow 10416
The MagnaFlow 10416 was designed for performance at wide-open throttle and offers a loud, deep exhaust tone for V8s.
Sound & Performance
While this muffler is simple in design, it's perfect for high-power V8s as it offers very little restriction to flow. Because it's free-flowing like the Cherry Bomb Glasspack, the MagnaFlow 10416 gives a loud and rich exhaust note.
When It comes to drone at highway speeds, you'll be surprised that it's barely audible, however, that also depends on the sound deadening inside your car or truck.
Because of its straight-through design with absolutely minimal restriction to flow, the MagnaFlow 10416 reduces exhaust back pressure significantly when compared to stock exhausts. This results in increased power at high RPMs and throttle response.
Construction
MagnaFlow 10416 mufflers have a straight-through design (also known as a glasspack) and utilize stainless steel acoustical packing material to dampen the sound waves. Because the muffler uses acoustic packing for sound reduction, it may take the muffler up to 400 miles to break in and settle into its normal sound level.
When it comes to build quality, MagnaFlow comes out on top. The whole muffler, including the acoustic packing and the interior tube, is made from high-quality stainless steel. Unlike aluminized steel which is widely used in exhaust systems to cut the cost down, stainless steel offers outstanding rust-resistance. All contact points on the 10416 are lap-jointed and welded to avoid distortion and cracking.
The MagnaFlow measures 20 by 14 inches with 4-inch thickness. Of course, the MagnaFlow 10416 is available in various inlet/outlet diameters and configurations, so make sure to choose the right diameter for your car.
Pros
Great flow and performance
Lightweight
Exceptionally high build quality
Lap-jointed and 100% welded for durability
Cons
Requires a 400-mile break in period to settle into its normal sound level
---
Thrush 17658 Welded
Founded in the 60s when hot rods were all the rage, Thrush Welded mufflers are a popular choice among V8 owners. They deliver the vintage V8 sound with the power to back it up – all without breaking the bank.
Sound & Performance
Thrush Welded mufflers were designed for vintage sound and modern power. This chambered muffler is more on the moderate side.
A lot of people compare Thrush Welded mufflers to Flowmaster's Original 40 series, however, the Thrush Welded mufflers sound just a bit more tame at idle.
At idle, the muffler gives a deep rumble that is strong enough to notice without being obnoxious. However, on mid to higher RPMs, the muffler lets the V8 roar aggressively.
That said, I would be surprised if you'd experience drone on the highway as the Thrush Welded is mellow and quiet at cruising speeds.
Construction
The Thrush Welded muffler relies on sound chambers to bounce sound waves off and cancel them out. While this design is a bit more restrictive than the straight-through, the Thrush Welded is still able to reduce backpressure by 30% when compared to a stock muffler.
The muffler is 100% welded (obviously) and constructed from aluminized steel, which is a good material but not as rust-resistant as stainless steel. It measures at 19 by 13 inch and 9-inch wide and, of course, is available in various inlet/outlet diameters and configurations.
Pros
Perfect choice for hot rods and vintage V8s
Chambered design
Extremely affordable
Reduces backpressure up to 30% when compared to stock
100% welded casing
Cons
Made from aluminized steel
---
How to Choose The Best Muffler for a V8
---
Mufflers come in various shapes and sizes, which differ for every application. Furthermore, not every muffler is made equal. Some are louder, more reliable, or deeper sounding than others. That's why it's important to spend a few minutes of research before making a purchase.
How a Muffler Works
The job of a muffler is simple: noise reduction. While a muffler seems like a simple component, what happens behind the scenes inside is fascinating.
In essence, an internal combustion engine is a very large air compressor. Once combustion takes place inside the cylinders, the engine expels exhaust gases in a form of high temperature and pressure pulses. These pulses create powerful sound waves, and the muffler is tasked to deal with them by reducing the sound level.
Ideally, a good aftermarket muffler should reduce the sound level, emphasize the better sounding deep notes and reduce backpressure. To do that, mufflers are engineered with advanced fluid dynamics, simulations and dozens upon dozens of calculations.
Depending on the style, a muffler uses baffles, chambers, and fiberglass sound-deadening materials to absorb sound waves and shape them. Some mufflers (mainly chambered ones) are actually capable of manipulating sound waves to an extent in order to achieve different exhaust tones.
Choose a Style: Straight-Through vs Chambered vs Turbo
There are three main muffler styles: straight-through (also known as a glasspack), chambered and turbo. Each style has its own benefits and drawbacks.
Straight-Through
Also known as a glasspack because of the fiberglass sound deadening material packed inside the muffler, the straight-through is as simple as the name implies. The exhaust gases are allowed to flow straight through the muffler without any restrictions. Straight-through mufflers use absorption to reduce the sound level.
Inside the straight-through muffler is a perforated tube, with fiberglass (or any other high temperature sound deadening material) wrapped around it. Some of the sound waves find their way through the perforations and get absorbed by the fiberglass material. Essentially, the sound waves vibrate the fiberglass material and therefore get converted into kinetic energy.
Because straight-through mufflers allow for maximum airflow, they are loud and ideal for racing or performance V8s. They are also very popular because of their compact size.
Chambered
The ideal choice for muscle cars and streetcars, chambered mufflers are designed to reduce sound levels and emphasize the best features in V8s. As the name implies, chambered mufflers use advanced fluid dynamics to bounce off certain frequencies and cancel them out. Sound chambers are also used to shape the exhaust notes into more pleasant frequencies, bringing out the best features.
While chambered mufflers may have more restriction to flow than a straight-through muffler, they utilize the scavenging effect and sometimes may even flow better than a straight piece of pipe. Scavenging means that the muffler is capable of creating negative pressure inside certain chambers. This vacuum provides suction and speeds up the exhaust gases. This effect helps offset the efficiency loss created by the baffles.
Turbo
The turbo muffler is a combination of the straight-through and chambered mufflers. It's the most restrictive and the quietest of the three. Turbo mufflers channel exhaust gases through a maze of perforated pipes, filter them through sound wave canceling chambers and lastly, filter some of the sound waves with fiberglass.
Because of the restrictions found in turbo mufflers, it's generally not recommended to use them in naturally aspirated engines, as they create more backpressure.
Consider Your Needs
Different mufflers will have a different effect on your V8. For example, some mufflers are less restrictive, therefore louder. A less restrictive muffler, such as the straight-through, has the added benefit of reduced backpressure, which translates to increased exhaust flow, power, torque, and throttle response.
On the other end of the spectrum, chambered and turbo mufflers are a bit more restrictive than straight-through but are still significantly more free-flowing when compared to stock. A more restrictive muffler is more quiet
Find the Right Fit: Offsets, Diameters & More
Now, there are a few things you should consider when it comes to muffler fitment: number of inlets/outlets, diameter, and space.
If your V8 has a dual exhaust system (which in most cases, it does) with two factory mufflers, you should go for the single inlet and outlet muffler configuration. However, if you want to merge a dual exhaust into one muffler, you'll need a dual inlet muffler.
The inlet/outlet diameter is also very important. You need to match the inlet diameter with the diameter of your exhaust. For example, if your exhaust is 3 inches in diameter, go for the 3-inch inlet diameter muffler.
Lastly, make sure the muffler will actually fit under the vehicle. Check underneath the vehicle in order to be sure that the outside dimensions of your muffler allow for proper clearance underneath the vehicle.
Consider the Construction Materials
Mufflers need to be built tough. They are constantly exposed to outside elements and wide temperature changes. Typically, manufacturers use a three-layer body design that consists of the jacket, inner case, and an insulation layer.
There are two main types of metals used in mufflers: aluminized steel and stainless steel. Aluminized steel is considerably cheaper than stainless steel and is used to keep the overall cost down. However, while being more expensive, stainless steel mufflers offer far better resistance against corrosion.
---
Frequently Asked Questions (FAQ)
---
What Muffler Is Best for Performance?
When it comes to performance, any muffler that resists exhaust gases the least and offers maximum flow is a winner. Generally, straight-through mufflers offer the best flow possible, therefore they are the best choice for performance.
Are Straight-Through Mufflers Loud?
Straight-through mufflers are the loudest of the three main types of mufflers. They are the loudest because there are no baffles inside to reduce noise. The exhaust gases, which are basically sound waves, are allowed to freely exit the muffler. However, straight-through mufflers still lower the sound level quite a bit by using acoustic absorption.
Can a Muffler Increase Horsepower?
Yes. Factory mufflers are mainly designed to comply with strict noise requirements, therefore they are much more restrictive to exhaust flow. On the other hand, an aftermarket muffler is significantly less restrictive and is able to evacuate exhaust gases much faster. In fact, some mufflers use a scavenging effect and can even outflow a straight piece of pipe, which could translate into a 10% power increase over a stock muffler.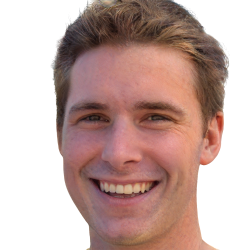 Eddie is the co-founder of CarCareCamp.com, and the site's primary contributor.
Under his belt, Eddie has a bachelor's degree in Automotive Electronics Engineering and almost a decade of experience working as a semi-truck technician (specializing in electrics).