Previously, we took a closer look at the top LED headlights for the Ram 1500. A lot of people liked it and we certainly enjoyed writing it – it's only fitting that we also review the best aftermarket headlights for Chevy Silverado.
Just like the OEM headlights on the Ram 1500, the original headlights that came with your Silverado get the job done but certainly lack character and can be improved upon. That's exactly where aftermarket headlights come into play.
Not only do aftermarket headlights increase nighttime visibility and therefore increase safety, but they also transform the look of your Chevy Silverado.
A good pair of aftermarket LED headlights with halo's will certainly turn heads and make some people around you jealous.
Now, a bunch of the aftermarket headlights we've reviewed below will also fit in a Chevy Avalanche since it basically has the same front end. But without further ado, here are the 6 best aftermarket LED headlights for Silverado.
---
The 6 Best Aftermarket Headlights for Silverado
---
AnzoUSA Projector Headlight Set for 16-18 Silverado
Installation: Plug & Play
Turn Signal Type: Sequential Amber LEDs
DRL Type: White LED
Optics: Single Projector
Does not come with headlight bulbs; uses OEM HIDs
AnzoUSA has been in the aftermarket automotive lighting business for over 30 years and has solidified itself as one of the best manufacturers when it comes to quality and reliability.
Now, as far as design goes, these aftermarket headlights look similar to the OEM 2016-2018 Silverado headlights but with a few noticeable improvements.
For starters, the turn signals are made from twelve sequential LEDs. In case you're unfamiliar with sequential LEDs – they flash in sequence, in the direction of your turn – a very modern and eye-catching feature.
The very bright Day Time Running lights are positioned around the projector and are covered by a light-diffusing strip. This gives the DRLs an even distribution of light and gives a very futuristic look – you won't be able to see the individual LEDs.
They are available in Chrome and the outer trim is removable just like the factory headlights in case you'd want to paint the trim.
As far as installation goes, it's very easy. You don't have to be mechanically inclined to do the job as these headlights are completely Plug & Play – no messing around with wiring needed.
So far so good but there is, however, something you should bear in mind before purchasing the AnzoUSA aftermarket headlights – they do not fit models with factory LED headlights and they do not come with light bulbs.
The reason for that is that they're designed to be used with OEM HIDs and including a new set of HIDs would make the headlights way too expensive. You'll have to remove the HIDs from your old headlights and install them into the new AnzoUSA aftermarket projector headlights, but luckily, it's an easy process on the 16-18 Silverado and doesn't require any special tools – only 5 minutes of your time.
Moving on to build quality, unlike many manufacturers, AnzoUSA rigorously tests all of their aftermarket lighting products to ensure that the product will last and won't develop moisture intrusion problems over time like so many poor-quality headlights do.
And these aftermarket Silverado headlights are no exception – they've been salt-sprayed, hit with static electricity, vibration, humidity, rain, and dust – you name it. They're built tough, just like your pickup.
Bottom Line
All-in-All these aftermarket headlights are the perfect choice for the 2016-2018 Chevy Silverado. They look great, the DLRs are very bright and unique in design.
That being said, they don't come with headlight bulbs therefore you'll have to reuse the old HIDs that are already in your Silverado, or worse yet – buy a new set of LED bulbs if your truck didn't come with HIDs.
But if your Silverado has HIDs or buying a pair of LEDs is not a problem for you – the AnzoUSA projector headlights are a no-brainer. They look great and will probably outlive your truck, unlike the majority of aftermarket headlights.
---
AmeriLite Black Square Projector Headlights for 2014-2015 Silverado 1500
Installation: Plug & Play
Turn Signal Type: Amber Halogen Bulbs (can be upgraded to LEDs)
DRL Type: White LED
Optics: Single Low Beam Projector
Comes with halogen H1 and H7 headlight bulbs
If you own a 2014-2015 Chevy Silverado with the pre-facelift stacked headlight design, then AmeriLite has got you covered with the best aftermarket headlights for the 2015 Silverado at a surprisingly decent price.
AmeriLite has been manufacturing automotive headlights and tail lights for pretty much every make and model car and truck you can imagine – and with great success. Because they managed to target such a wide audience of drivers, around 7 out of 10 aftermarket headlights that you see on the road are made by AmeriLite.
The secret to their popularity is quite simple – they manufacture the best bang-for-your-buck aftermarket headlights. They're reasonably priced, look great, and are quite durable.
Just like the AznoUSA aftermarket headlights above, AmeriLite kept most of the original design and improved on it.
The projectors are square and now have more character to them, but the main feature is the addition of dual LED DRLs.
The DRLs are made from individual LEDs and are very bright indeed. To give the headlight a futuristic look, AmeriLite added a light-diffusing strip over the DRL LEDs.
Now, unlike the AznoUSA headlights above, these do come with H1 (high beam) and H7 (low beam) halogen light bulbs included, however, you can also use HIDs or LEDs for a better light output – just make sure the headlight bulbs will fit when the dust cover is on.
Even though they don't come with an installation manual for some reason, they are still easy to install, since these aftermarket headlights are fully Plug & Play and because there are tons of video tutorials on the whole process.
As for build quality and longevity – they're made very well and should last a long time like most of their headlights do, but to give you peace of mind, AmeriLite offers a decent warranty.
Bottom Line
The AmeriLite Black Square Projector Headlights offer the best bang for your buck you could ask for.
The DRL LEDs will certainly turn heads on the street and if you pair them with proper HIDs or LEDs you're guaranteed to get compliments.
And, because of that, the AmeriLite Black Square Projector Headlights are probably THE best aftermarket headlights for 2015 Silverado you can get your hands on.
---
Topline Autopart Full LED Sequential Tri Projector Headlights for 07-13 Silverado
Installation: Plug & Play
Turn Signal Type: Amber Sequential LEDs
Light Bar Type: White LED
Optics: Three Separate Projector Low Beam LEDs & Dynamic Full LED High Beam
There are a lot of aftermarket headlights for the 2nd generation Chevrolet Silverado (2007-2013) but absolutely no other headlight even comes close to what Topline Autopart has designed.
Unlike the aftermarket headlights we reviewed above, the design on these is completely different from the factory OEM headlights and it completely transforms and modernizes the look of the 2nd gen Silverado.
Topline Autopart got rid of the original stacked design and replaced the single halogen low beam projector with three separate projector high-power SMD LED lights that output light at a cool-white 5,500 Kelvin.
The separate three-square LED projector design resembles the square low beam LED projector design in the new Acura NSX but it's not only for good looks – the projector LEDs are very bright and the beam pattern is razor-sharp. As for the high beams – they're fully LED as well.
Now, if you haven't been using your turn signals often, then you will be dying to turn them on whenever possible as they are made from bright sequential amber LEDs that flash in sequence and add more character to your Silverado.
Another important feature of this aftermarket headlight is the white LED light bar. It's pretty bright and it does a great job of ensuring even light distribution and hiding the individual SMD LEDs, although the light bar itself could have been designed to take up a larger space of the headlight. Or maybe I'm too picky?
Anyway, the headlights are Plug & Play ant therefore easy to install – just one connector and you're done. But if your Silverado has factory projector headlights or factory LED headlights, then you're out of luck and they won't fit your truck. Unfortunately, they are only made to replace the factory OEM halogen style headlights.
Bottom Line
The Topline Autopart aftermarket LED headlights for the 2007-2013 Silverado are pretty expensive but well worth the purchase if you can afford them.
They have the most unique design by far and come with three separate high-power projector LEDs that are very bright and produce a razor-sharp beam pattern. The dynamic LED high beams are very bright as well and the sequential LED turn signals are much more visible than the OEM ones.
To sum up – if you don't mind making people jealous and feeling like you own the road then these headlights are the obvious choice.
---
AUTOSAVER88 Headlight Assembly for 2007-2013 Silverado
Installation: Plug & Play
Turn Signal Type: Halogen Bulbs
These aftermarket headlights are designed to fit the same second-generation Chevy Silverado; however, they are the complete polar opposites of the fancy redesigned Topline Autopart LED projector headlights.
As you might have guessed from the picture, they are a slightly updated version of the OEM assembly and therefore are extremely affordable.
So, if by any chance your old headlights are cloudy, and the fancy LED bars on most aftermarket replacements are unnecessary for you, then the Autosaver88 Headlight Assembly is probably your best choice.
Now, similar to AmeriLite, Autosaver88 has been manufacturing aftermarket OEM auto parts (mainly lighting-related equipment) for tons of different makes and models, however, they are quite new and therefore will go out of their way to offer you the best customer service possible. Just check the reviews on Amazon!
Getting back to the aftermarket headlights themselves, their conservative black design will give your second-generation Chevy Silverado some character without going overboard and being too obnoxious.
You can leave your wire strippers and crimping tools in your toolbox as these aftermarket headlights are completely Plug & Play for an easy installation.
When it comes to build quality, they're built from ABS plastic which is tougher than the OEM plastic on your original headlights and the lens are coated in a triple layer of UV protective clear coat that prevents fading and flaking.
Now, there have been reports of some buyers being unlucky and having their headlights develop condensation problems, however, that happened over a year ago and since then, the manufacturer has taken measures to make sure that doesn't happen again.
But if you rather be safe than sorry, you can always seal the aftermarket headlights yourself with some silicone. Some buyers did it with good results and I've personally done it multiple times on my vehicles and haven't had a problem since. Just remember – you get what you pay for.
Bottom Line
The Autosaver88 Headlight Assembly is the perfect choice for people who are looking for a budget-friendly replacement for their weathered and cloudy factory headlights.
They offer tougher outer ABS plastic lenses, the same functionality, and subtle blacked-out design for a fraction of the cost that you would normally pay at the dealership.
---
AmeriLite Projector Headlights for 07-13 Chevy Silverado
Installation: Plug & Play
Turn Signal Type: Halogen 3157 Amber Bulbs
Light Bar Type: White LED
Optics: Single Low Beam Projector & Single High Beam Reflector
For those of you that are looking for something in between for your 2017-2013 Silverado, then AmeriLite has got you covered.
The headlight has a much more modern blacked-out design with a few key features.
Now, the first feature that will catch your eye is the bright C-shaped LED running light, which runs off the parking light circuit. It's made from white LEDs which are covered by a light-diffusing strip for an even distribution of light and a futuristic look.
The H7 halogen low beam bulbs that come with the headlight are complimented by projector lenses, which concentrate the light beam and increase its brightness. As for the high beams, they're H1 halogen bulbs inside a reflector.
If you don't like halogen bulbs and want more brightness, you can certainly use LED bulbs as long as they fit inside with the dust covers closed. Because these headlights use a projector, you won't be blinding oncoming traffic.
Like 90% of all AmeriLite products, these headlights are also completely Plug & Play and don't require any custom wiring – just connect to the existing connectors in your Silverado and Bob's your uncle.
AmeriLite Projector Headlights are built tough, but in case you don't feel confident, AmeriLite does offer a 30-day money-back guarantee and a 90-day limited warranty.
Bottom Line
The AmeriLite Projector Headlights are a great middle-of-the-road option for the second-generation Chevy Silverado.
They're just a tad bit more expensive than the Autosaver88 aftermarket headlights above but much more modern looking and brighter thanks to the projector lenses.
---
Autosaver88 Headlight Assembly for 03-07 Silverado
Installation: Requires Custom Wiring for DRLs
Turn Signal Type: Amber Halogen Bulbs
Optics: Reflectors with halogen 9005 & 9006 bulbs
We did not forget about the first-generation Chevy Silverado!
Made by Autosaver88, these aftermarket headlights are very similar to the original, however, the main difference is the addition of U-shaped white Day Time Running lights.
They are bright and subtle but make a world of difference for the front of the truck, especially with the black housing. It makes a nice contrast, actually.
Now, it would have been nice if they would come with projectors but the reflectors do a great job of illuminating the road and the light pattern is more concentrated when compared to OEM. The headlight uses 9005 halogen high beam lightbulbs and 9006 halogen low beam bulbs – they are not included with the headlight, unfortunately. But hey, the headlights are inexpensive and the bulbs cost next to nothing and can be reused from your old headlights.
As for the installation – some wiring is required for the DRLs, however, everything else is Plug & Play and will connect to the existing factory connectors. When wiring the headlights, consider splicing the DRLs into the corner lights in order to have a way to control them – running them all the time might reduce their lifetime.
The outside lenses are made from durable ABS plastic and the headlights are tested for impact, moisture, and heat resistance – condensation inside the headlight should not be an issue.
Bottom Line
The Autosaver88 Headlight Assembly for the first-generation Chevy Silverado and Avalanche is an inexpensive way to refresh the look of your truck and improve visibility at night.
There are we few things about them that could have been better, for example, the light bulbs could have been included with the headlight, but at this price point – they're hard to beat.
So, whether you're looking to turn heads on the street or just want to replace your old hazy headlights – Autosaver88 aftermarket headlights will not disappoint.
---
Things to Consider When Buying Aftermarket Headlights for Chevy Silverado
---
Projector Headlights vs Reflector Headlights
When you're shopping for a new pair of aftermarket headlights for your Chevy Silverado, you'll find two main headlight types to choose from – projector headlights and reflector headlights.
Reflectors have been around for decades and were used in the first production cars on the road.
What are reflector headlights? They're the simplest headlights in which the headlight bulb is mounted in a bowl-shaped reflective chrome housing. The bowl acts as a mirror and reflects the light into a wider angle, thus effectively illuminating the road.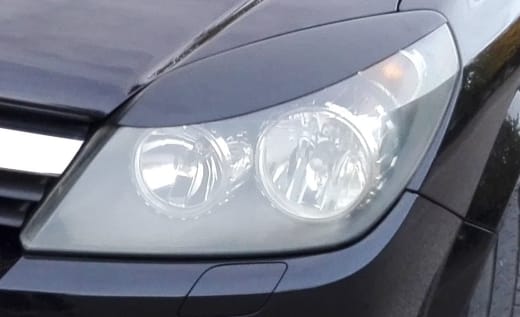 They're still used to this day as they are cheap to manufacture and still get the job done.
However, projector headlights are superior to reflector headlights both in visibility at night and good looks. A projector headlight uses the same reflector around the headlight bulb but with a little twist – there's a glass lens in front of the bulb.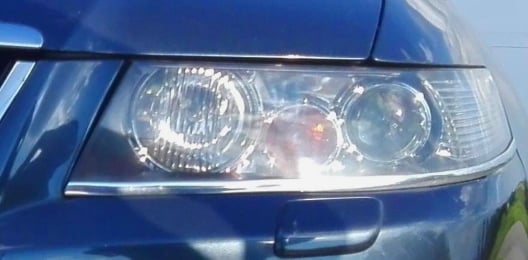 The lens, more accurately – condenser lens, acts as a magnifying glass in a way and is used to focus the light beam. This results in a much brighter light pattern, and as a nice side effect – the headlight itself looks more visually appealing.
Another major benefit of projector headlights is that they work so much better with HID and LED conversions, therefore if the outdated halogen headlight bulb design does not sound appealing to you – projector headlights are the only way to go.
Durability & Materials
One of the worst feelings ever is when you spend a lot of money for a product just to have it break or become unusable shortly after buying it.
There are a few ways that aftermarket headlights could go wrong and making sure that the headlight of your choice has been tested and proven to last should a big priority.
The most popular by far – moisture inside the headlight.
This, unfortunately, is a pretty common occurrence with lower-priced aftermarket headlights. In this case, the most likely reason behind that is that the headlight wasn't sealed properly at the factory.
You can add an additional layer of silicone to help the headlight seal better and it does work most of the time, but it's a good idea to avoid cheaper headlights all-together.
The second problem that you might encounter is LEDs burning out prematurely. This rarely happens as LEDs are very efficient, resistant to vibrations, and will last for a whole lot longer than halogens, however, if you push them too far, they will burn out fast. Make sure that your LED headlights are properly wired if you're going to do the wiring yourself.
Ease of Installation
Be honest with your electrical and mechanical abilities. While most aftermarket headlight for Chevy Silverado are Plug & Play, they still require you to remove the old factory headlights from your truck.
It's a pretty easy process on the Silverado and if you have been changing your own oil and such – you shouldn't face any problems and will most likely be done in 30 minutes.
But if you've never worked on your car and are unsure – opt for professional installation. That way you'll save yourself the headache and won't break anything.
---
How To Install Aftermarket Headlights In a 07-13 Chevy Silverado
---
Tools you will need:
Flathead screwdriver (or a flat trim removal tool)
Ratchet with 5" or longer extension
10mm socket
Pliers (optional)
Start by removing the plastic cover under the hood. The cover is held on with 8 plastic clips. Lift the center part of the plastic clips up with a flat heat screwdriver or a trim removal tool – this will release the plastic clips and you'll be able to remove them easily.
Remove the four 10mm bolts that hold the top of the grille.
Release the top of the grille by undoing the two top center clips. You can give the grille a tug and it will come off, but a better way to do it would be to release the metal clips holding it. Find the two center clips that are holding the top of the grille and press in on them with pliers. While pressing in on the clips, pull the top of the grill out to pop the clips out.
Release the bottom of the grille by undoing the four bottom clips. Use the same technique with pliers or give the grille a tug if you feel confident – either way works.
Remove the grille. Now that the six metal clips are out, grab on to the grille and remove it from the truck. Be careful not to scratch the paint on the grille and place it somewhere where you won't step on it accidentally.
Undo the two top 10mm bolts on the driver's side headlight. Don't worry about the headlight falling out – there's one more 10mm bolt holding it under the wheel well.
Pull back the wheel liner and remove the last 10mm bolt. There's no need to remove the wheel liner as it's pretty flexible. Hold the wheel liner with one hand and remove the last 10mm bolt with the other.
Disconnect the wiring harness from the headlight. You can undo the connector by pushing in on the plastic tab on the bottom of the truck side connector and giving it a tug.
Connect the new aftermarket headlight. Most aftermarket headlights are Plug & Play, meaning you'll only need to reconnect the same factory connector back to the new aftermarket headlights. However, if your headlights require custom wiring, you'll need to consult the installation manual that came with your aftermarket headlights.
Secure the new aftermarket driver's side headlight with the three 10mm bolts. Do this in first order to make sure that the driver's side headlight doesn't fall on the ground when you're repeating the process with the passenger's side headlight.
Repeat the process with the passenger side headlight.
Check if the new aftermarket headlights are fully functional and work correctly. Do this in order to avoid taking everything apart again, in case the headlights do not work.
Install everything back into place – installation is the reverse of removal.