Some people claim that an exhaust tip won't make a difference in sound but that's just plain WRONG.
A good quality, resonated exhaust tip WILL give a deeper sound to both diesel and petrol cars.
So, if you've decided it's time to make your car stand out and make the drivers behind you jealous, check out our reviews for the 10 best exhaust tips for deep sound:
---
10 Best Exhaust Tips for Deep Sound
---
1. DC Sports EX-1012B – Best Overall
For such a small and inexpensive product, the DC Sports EX-1012B packs quite a punch. While you can't really tell a difference at idle, once you step on the gas, this resonated exhaust tip changes the exhaust note to a more aggressive pitch. It gives the exhaust a deeper, more raspy kind of sound. Although the change in sound isn't as drastic as a new muffler – you can still hear a subtle difference.
The flat black finish in combination with the slanted shape gives it a sporty and aggressive look – a definite eye-catcher. However, if you're not a fan of the flat black finish, this exhaust tip is also available in silver.
It's durable too – the DC Sports EX-1012B exhaust tip is made from 100% T304 stainless steel and is TIG welded by hand.
Specifications:
2-1/4-inch inlet, 3-3/4-inch outlet
9 inches long
1.8 pounds
Pros
Great value
Noticeable rasp & rumble
Easy to install
Slanted tip gives an aggressive look
---
2. AUTOSAVER88 Black Powder Coated Stainless Steel – Best Sound
The AUTOSAVER88 black powder coated stainless steel exhaust tip has a highly sleek design and is very easy to install because it only needs to be bolted on. The chrome stainless steel design makes it even more attractive. It is available in two different designs. You can completely avoid rusting and deformation by using this exhaust tip because it provides plenty of coverage. This exhaust tip is the most affordable one from this list and it is one of the best exhaust tips for deep sound as it has an angled cut and rolled edge. It is also the best exhaust tip if you want something that is not too long and will not show too much on your car.
Specifications:
2 to 2.5-inch inlet, 4-inch outlet
2.07 pounds
9 to 10-inch length
Pros
Easy to install (bolt-on)
Great if you want an exhaust tip that is not too long
Great deep sound
Available in two designs
Very affordable
Easy to avoid deformation and rusting
Cons
Very lightweight
Not universal fit
---
3. Upower Dual Exhaust Tips

– Best Looking
The Upower dual exhaust tips provide the best design that is currently available in the market. Made with mirror polished stainless steel and burnt blue ends, these exhaust tips are ideal for anyone looking to greatly improve the exterior of their car. The angled cut rolled edge and two in one tips will guarantee the deepest of sounds. These dual tips require weld-on installation, but are completely worth it for their design and deep sound production. These tailpipes are rustproof, anti-corrosion, and highly durable. The Upower dual exhaust tips are ideal for sports cars, which already have a sleek design to match the exhaust tips.
Specifications:
2.5-inch inlet, 3.5-inch outlet
2.81 pounds
10 inches long
Pros
Anti-corrosion
Durable
Rust proof
Great design
Angled cut and rolled edge
Two in one tips
Great deep sound
Cons
May not be a good fit for all cars
Only available in one design
Weld-on installation
---
4. MBRP T5073 Angled Rolled End Exhaust Tip – Premium Pick
This exhaust tip made it into our list because of how ideal the design is. It is one of the best exhaust tips for deep sound, and is made with durable and strong stainless steel. The exhaust tip has a mirror-polished design with the MBRP logo embellished on it. This exhaust tip is guaranteed to not rust, which makes it long-lasting. No welding is required and it has an easy bolt-on installation. It weighs 3.7 pounds, which is quite lightweight if you are looking for something heavy-duty. It has ideal dimensions for deep sound as the inlet and outlet are large enough to accommodate the sound you would want with an exhaust tip.
Specifications:
4-inch inlet, 6-inch outlet
15 inches long
3.7 pounds
Pros
High quality
Polished stainless steel and sleek design
Rust-proof
Best deep sound
Durable
Very easy installation
Cons
Lightweight
Only available in one design
---
5. MBRP T5124BLK Black Finish Exhaust Tip

– Best for Diesel
The MBRP black finish exhaust tip has a universal fit, so you can put it on any car without having to worry. The black finished stainless steel gives this exhaust tip a sleek and aesthetic design. No welding is required as this tip has a clamp-on installation. The angled design guarantees that you will get the deep sound you are looking for. This tip is also quite lightweight, weighing in at 3.5 pounds and this may be a disadvantage if you are looking for something heavy-duty. The easy installation coupled with the universal fit is what makes this exhaust tip one of the best ones on this list.
Specifications:
4-inch inlet, 5-inch outlet
3.5 pounds
18 inches long
Pros
Universal fit
Very easy to install
Durable
Long lasting
Prevents rust
Sleek and stylish design
Angled for perfect sound
Great inlet and outlet sizes
---
6. AUTOSAVER88 Chrome Exhaust Tip
This chrome exhaust tip is available in two different designs, including silver and black. It is of a standard size and has a very sleek design with the chrome-plated finish. It has easy installation as it can be bolted onto your car. This exhaust tip is also quite lightweight, weighing only 3.9 pounds. The standard size guarantees great deep sound and lends sophistication to the exterior of your car. This exhaust tip also provides protection for your tailpipe against any weather conditions. The design is not extremely angled, so it is a good choice for anyone looking to keep their exhaust tip simple.
Specifications:
4-inch inlet, 5-inch outlet
3.9 pounds
12 inches long
Pros
Standard size, so it will fit most cars
Available in two designs
Easy to install
Provides great protection
Cons
May be lightweight
Not a very angled design
---
7. ECCPP Diesel Long Mirror Black Powder Coated Stainless Steel
Another brilliant ECCPP creation, this stainless steel and highly sleek mirror black exhaust tip will be a great addition to your car's exterior. The best part about ECCPP exhaust tips is that they are very easy to install and only require screwing in (no welding necessary). It can protect your car's tailpipe from weather conditions that cause rust and corrosion. Plus, it creates a great deep sound when used. This tip also has anti-deformation and anti-cracking properties, so you can ensure that it will last a long time. It is also very durable, so it will probably last a long time.
Specifications:
4-inch inlet, 7-inch outlet
15 inches long
4.5 pounds
Angled cut
Pros
Sleek design
Easy installation
Great for rust and corrosion prevention
Anti-deformation and anti-cracking properties
Great length
Durable
Cons
May not fit all cars
Only available in one design
---
8. AMAAM Black Powder Coated Rolled Angle Cut Universal
This pair of exhaust tips is by far the most affordable on this list. This pair of universal exhaust tips are suitable for most cars and have the perfect length for a great fit. They are brilliant at amplifying the deep sound of car exhausts. The black powder coating lends them a sleek look. These tips require a weld-on installation. These tips are also available in a single and in a different length (18 inches). Each tip weighs about 3.5 pounds, which is not exactly heavy-duty, but still hefty for an exhaust tip.
Specifications:
2.5-inch inlet, 4-inch outlet
3.5 pounds weight per tip
Available in different sizes and as a single or pair
12 or 18 inches long
Pros
Affordable
Available as a single or a pair
Available in two different sizes
Sleek design
Cons
Not very heavy duty
Requires weld-on installation
---
9. LCGP Exhaust Tip
This high-quality LCGP exhaust tip is great if you are looking for something with deep sound. The exhaust tip is available in two designs, a black powder coat and polished silver steel. Such variety is hard to find in the markets. The high temperature at which this exhaust tip has been treated has allowed for the design to look sleeker and highly durable at the same time. This exhaust tip also features a hole for water drainage, so it is perfect for use in rainy weather. This tip also requires a weld-on installation. It's quite heavy duty and weighs in at around 6 pounds, making it ideal to carry out deep sounds when driving your car.
Specifications:
2.5-inch inlet, 4-inch outlet
18-inch length
6.05 pounds
Pros
Heavy-duty
Quite long
Affordable
High-temperature finish
Easy water drainage
Cons
Weld-on installation, not clamp-on
---
10. Borla 20248 Exhaust Tip
This 3.15-pound exhaust tip is a great automotive replacement if you are looking for something heavy-duty and long-lasting. This particular exhaust tip provides one of the best deep sounds, so you can rev your car to your heart's content. The tip requires welding for installation, so you may want to reconsider if you are looking for a clamp-on unit. The angular cut allows for better resonation. This tip is 13 inches long, so it may not fit all car sizes. This tip also works great with mufflers. It is a quite affordable and high-quality product.
Specifications:
2.25-inch inlet, 4 inches round
13-inch length
Rolled angle cut
Pros
Affordable
Compatible with mufflers
Made with heavy-duty material
The angular cut is great for deep sound
Cons
Welding installation, not a clamp-on
It may be too long for all types of cars
---
How To Choose The Best Exhaust Tip for Deep Sound
---
Also Read: How To Get Exhaust Popping Sound (Without Tune)
Why Should You Buy an Exhaust Tip?
An exhaust tip is one of the most cost-effective ways to change the look of your ride.
When it comes to aesthetics, a carefully selected exhaust tip could make your car stand out on the streets by giving other drivers a hint of what's under the hood. Think about what first thing you notice when you're behind a modified car? Exactly – the exhaust tip.
Of course, an exhaust tip is going to alter the exhaust note. If the exhaust on your car is a bit too loud or high-pitched for your liking, an exhaust tip is what you need.
The tip bounces the sound waves in certain, precalculated directions and modifies the sound to bring out the deep frequencies that most of us love.
Lastly, if you're a diesel owner and are tired of soot sticking to the back/side of your truck, consider getting an aftermarket exhaust tip. That way, the soot from the exhaust is further away from the body of your truck and is scattered away by the wind.
Do All Exhaust Tips Give a Deep Sound?
If the outlet diameter of the exhaust tip is bigger than the inlet – yes. Now, the difference isn't as dramatic as changing the muffler, but a resonated exhaust tip does make a considerable change.
So, if your cars exhaust pipe is 2" inch and the outlet diameter of your exhaust tip is 4" then the sound will definitely be different.
For an even bigger change in exhaust sound, consider buying a resonated exhaust tip.
They are specially designed to modify and cancel out certain sound waves to make the exhaust note sound better.
What Are the Different Types of Exhaust Tips?
Turndown exit
Also known as a "dumpout", they dump out the soot further away from the vehicle into the ground. As you might have guessed, they are mainly used in diesel trucks. That way, the vehicle stays clean longer, since the soot gets scattered away and doesn't stick to the paint.
Straight-cut
This one is pretty self-explanatory: it's cut straight, just like a simple piece of pipe. This style is a great choice for big exhaust tips, as the angle cut would make it seem smaller.
Angle-cut
Unlike the straight-cut, these exhaust tips are cut at a sharp angle. The addition of the angle cut gives a more aggressive look and is a popular choice for supercars.
Single wall
Being the most basic style, single wall mufflers feature just that – a single layer metal casing. They are the lightest and the cheapest to manufacture.
Dual wall
Similar to the single wall, dual wall exhaust tips are made from two layers of stainless steel. This gives the exhaust tip a more heavy-duty look.
Rolled edge
Just like the name suggests, these exhaust tips feature rolled edges, which makes the exhaust tip look thicker and more professional.
---
Exhaust Tip FAQ (Frequently Asked Questions)
---
Does Changing the Exhaust Tip Make the Car Louder?
It depends on the exhaust tip. An exhaust tip that has a larger diameter than your exhaust pipe will make the car louder. Furthermore, a resonated exhaust tip will give the biggest difference when it comes to sound.
Does a Bigger Exhaust Tip Make It Louder for a Diesel?
Yes. The size of the exhaust tip directly correlates to the sound level, so generally speaking, the larger the exhaust tip the louder.
Why Did My Exhaust Tip Turn Black?
Over time, the combustion byproducts of an internal combustion engine bond to the surface of the exhaust tip. The black deposits are unburnt fuel. The reason why there's unburnt fuel coming out of your car's exhaust pipe is that the car is running rich. In order to cool the combustion chamber, car manufacturers keep the air/fuel mixture rich.
How Do You Clean Dirty Exhaust Tips?
Use a damp microfiber towel with a little bit of cleanser and start scrubbing. There is no easier way since the combustion deposits are bonded to the surface!
Do Exhaust Tips Add Horsepower?
No. In order to increase horsepower, an exhaust tip should create a scavenging effect and speed up exhaust gases, however, that is simply impossible because exhaust tips are too small in length to be able to affect flow characteristics.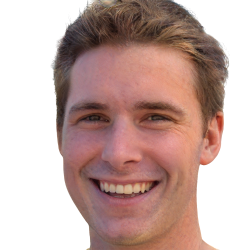 Eddie is the co-founder of CarCareCamp.com, and the site's primary contributor.
Under his belt, Eddie has a bachelor's degree in Automotive Electronics Engineering and almost a decade of experience working as a semi-truck technician (specializing in electrics).