A muffler is arguably one of the most cost-effective ways to mod your car. For just under a hundred bucks, a muffler could dramatically change the way your car sounds – from a deep rumble to a throaty roar, the right muffler could complement the sound of your turbo car.
So, if you've decided it's time to let your turbo car roar freely with a performance muffler, then keep reading as we've picked out the 5 best mufflers for turbo cars that are sure to sound amazing and even provide a slight performance boost.
Which Muffler Style is Best for Turbo Cars?
There are three main styles of mufflers: straight-through, chambered, and turbo.
You might think that the turbo style muffler is the best choice – after all, it's called turbo for a reason, right? Well, not quite. If anything, a turbo-style muffler has the worst balance of sound and power because of its restrictive design, and for that, I would definitely not recommend running a turbo muffler.
The reason why turbo-style mufflers are called turbo is that the first production example of the muffler was designed and used on the 1965 Chevrolet Corvair Corsa Turbo. They are the quietest and most restrictive mufflers on the market.
With that out of the way, the best muffler style for a turbo car should have a balance of both power and sound.
There is a saying that the only muffler a turbo car needs is the turbo itself and it actually holds value. On lower revs, straight piped turbo cars are actually pretty tame and moderately quiet, however, once on boost, a turbo car does make a lot of noise. Thus, if you like your cars loud, consider doing a muffler delete.
A chambered muffler is a combination of straight-through and turbo. If you're concerned about drone and that the car will be way too loud, a chambered muffler may be the right choice. It's not as free-flowing as a straight-through muffler but it's significantly quieter.
On the other hand, if you don't mind a louder exhaust and a bit more drone, consider a straight-through/glasspack muffler. A straight-through muffler will significantly reduce backpressure, thus increasing horsepower and throttle response.
In the end, it all comes to the design of your car's engine and the exhaust system. On some cars, a chambered muffler sounds too quiet, while on the others it's perfect.
The best advice I can give you is to test the sound of your car with no muffler. If the car sounds way too loud with no muffler, get a chambered style muffler. But, if your car sounds almost perfect without a muffler (in most cases it does), get a straight-through to cut down on a couple of dBs.
Related: The Best Muffler for 4 Cylinder Cars
---
The 5 Best Mufflers for Turbo Cars
Best Overall

BORLA XR-1



Excellent Flow & Performance
Minimal Interior Drone
Reversible Design

Check Price On Amazon

Runner Up

Flowmaster Super HP-2



Highlights Deep & Throaty Frequencies
Dyno Tested for Best Performance
Cool Shell Technology

Check Price On Amazon

Best Value

Dynomax Ultra-Flo



Dyno Tested to Flow Up To 2200 SCFM
Loud & Aggressive
Reversible Design

Check Price On Amazon

MagnaFlow 10416



Deep & Throaty Sound
Maximum Airflow

Check Price On Amazon

Cherry Bomb 87522 Glasspack



Signature Mellow Tone
Loud
Reversible Design

Check Price On Amazon
---
BORLA XR-1 –

Best Overall
Why we like it: Borla's XR-1 raceline mufflers are the go-to for performance turbo cars as they have been shown to provide even more flow than a straight piece of pipe during testing. The XR-1 series offers the best balance of sound and power.
Designed and made in the USA, Borla XR-1 mufflers feature a patented straight-through free-flow design for maximum performance. The XR-1 provides minimal resistance to the turbo, giving an increase in power and throttle response.
Made with advanced fluid dynamics in mind, the XR-1 raceline mufflers highlight the growling aggressiveness of a turbocharged engine, while still reducing dBs to meet even the strictest noise requirements. In addition to that, the muffler is completely reversible.
The muffler is constructed from 100% welded top-quality austenitic T-304 stainless steel for outstanding durability. The XR-1 has a 15" x 5" case design, 20-inch overall length and features a 3-inch diameter inlet and outlet.
Pros
Excellent flow and performance
Aggressive throaty sound
Made from austenitic stainless steel
Reversible design
Minimal interior drone
---
Flowmaster Super HP-2 – Runner Up
Why we like it: the Super HP-2 series mufflers from Flowmaster offer a moderately loud, deep and throaty exhaust note, without taking up too much space. They are tame at city speeds and aggressive at high RPMs – a great choice for a daily driven turbo car.
The Laminar technology used in the Super HP-2 series uses two opposing conical structures to shape the sound of the exhaust gases into a powerful, deep tone. The increased diameter of the exit cone creates a scavenging effect, which increases exhaust flow and velocity, giving a boost in performance and throttle response.
The compact oval shape of the muffler, allows for easier installation and fitment, while the Flowmasters Cool Shell technology significantly reduces the temperature of the muffler's jacket.
Because of the lower external temperatures of the Super HP-2, the muffler can be installed in tighter spaces without the fear of melting the floorboards of your car.
The Super HP-2 is 12 inches long, 5 inches wide, and has a 2.5-inch inlet and outlet diameter.
Pros
Dyno tested and tuned for maximum flow
Innovative Laminar flow technology highlights deep and throaty notes
Creates a scavenging effect for increased flow and performance
Compact size allows easy installation on 2.5" exhaust systems
Cool Shell technology protects the vehicles floorboards from melting
---
Dynomax Ultra-Flo – Best Value
Why we like it: Dynomax Ultra Flo mufflers are known for their performance and for a good reason. They are dyno tested and proven to flow up to 2,200 SCFM and support up to 2,000 HP. They are loud, throaty, and aggressive without being too loud for the streets.
This top-rated muffler features a fully welded stainless steel construction for lifelong durability. The inside of the muffler offers minimal restriction, reduced back pressure, and allows massive airflow of 2,000 SCFM.
Ultra Flo mufflers use Continuous Roving Fiberglass technology to absorb interior resonance without affecting the outstanding deep exhaust tone.
These outstanding mufflers come with a Limited Lifetime Warranty and are 19 inches long, 6 inches wide, and have a 3-inch diameter inlet and outlet.
Pros
Dyno tested for maximum performance
Loud and aggressive
Minimal interior resonance
Comes with a Limited Lifetime Warranty
Cons
The muffler could look more stylish if it was polished from the factory
---
MagnaFlow 10416
Why we like it: the Magnaflow 10416 was designed for performance at wide-open throttle and offers a deep exhaust tone and rumble.
While this muffler is simple in design, it's perfect for turbo engines as it offers very little restriction to flow. This top-rated muffler was engineered and made in the USA, and it shows, as the build quality of the muffler is outstanding.
The Magnaflow universal muffler is made from stainless steel for durability and has a perforated stainless steel core for unrestricted flow and great sound control. All contact points are welded and lap-jointed to avoid cracking at the seams.
Pros
Universal muffler, compatible with a wide variety of vehicles
Offers a deep sound
Provides maximum airflow
Available in a variety of sizes and configurations
Cons
Welds could have been a bit more durable
---
Cherry Bomb 87522 Glasspack
Why we like it: a classic among car enthusiasts, the Cherry Bomb glasspack delivers the legendary throaty growl without breaking the bank.
Why we like it: A classic among car enthusiasts, the Cherry Bomb glasspack delivers the legendary throaty growl without breaking the bank.
Cherry Bomb mufflers have a cult following for their signature deep and mellow sound. Founded in 1968, Cherry Bomb mufflers have been consistently producing excellent mufflers for high-performance muscle cars.
This straight-through muffler is loud and aggressive – a perfect option if your turbo car sounds pretty tame with the stock resonator on. On the other hand, if your car sounds very aggressive without a muffler, the Cherry Bomb could be too aggressive as it provides only a minimal reduction in dBs.
The signature red powder-coat of the Cherry Bomb gives the muffler style and protects the aluminized steel from outside elements. The glasspack is 12 inches long, 8 inches wide, and has a 2.5-inch inlet and outlet diameter; all in all, a very compact muffler that should fit in any car.
Pros
Legendary Cherry Bomb deep & mellow exhaust note
Solid build quality
Compact size
Perfect fit for 2.5" exhaust systems
Cons
May be too loud on larger engines
---
How To Buy The Best Muffler For Turbo Cars
---
Size
The fitment of the muffler should be one of the main aspects to consider before buying, as they come in a variety of shapes and sizes. It's recommended to check if the muffler of your choice is small enough to fit under the car, without compromising the strength of the whole exhaust system.
The diameter of the inlet and outlet of the muffler should match the diameter found on your exhaust pipe. If the diameter does not match, you'll have to use an adapter to complete the installation.
Style
As discussed in the first part of the article, there are three main muffler types: straight-through/glasspack, chambered, and turbo.
Straight-Through/glasspack
A straight-through muffler, also known as a glasspack because of the sound dampening fiberglass material found inside the muffler, is as simple as it sounds. This type of muffler allows for maximum airflow by allowing the exhaust gases to move straight through the muffler with minimal resistance. In order to reduce the sound, glasspack mufflers contain a perforated pipe, with fiberglass wrapped around it. The fiberglass material insulates the outside casing of the muffler and dampens the sound waves.
The straight-through is the least resistive of the three and therefore the loudest. For some cars, it's the perfect choice as it provides an excellent balance of power and sound.
Chambered
A chambered muffler is a combination of straight-through and turbo style mufflers and sits between the two when it comes to sound level. These mufflers are quieter than the glasspacks but louder than the turbo-style mufflers.
As the name implies, chambered mufflers use chambers to bounce the sound waves and condition their wavelength. With the use of advanced fluid dynamics and calculations, chambered mufflers cancel certain high and undesirable wavelengths out and highlight the deep and aggressive tones.
Chambered mufflers are the perfect choice for cars that are way too loud with a straight-through muffler.
Turbo
Lastly, the turbo-styled muffler utilizes a series of perforated pipes, chambers, and fiberglass to make the exhaust as quiet as possible. Because of the restrictions of flow found in these mufflers, they are generally not recommended for use in naturally aspirated engines, as these mufflers create considerably more backpressure.
Construction Materials
A muffler is constantly exposed to the elements and varying temperature cycles; therefore, a muffler needs to be made from durable, high-quality materials in order to last.
Most commonly, mufflers are made from aluminized or stainless steel. Aluminized steel being the cheapest of the two, does not resist corrosion as well compared to stainless steel.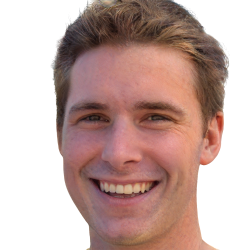 Eddie is the co-founder of CarCareCamp.com, and the site's primary contributor.
Under his belt, Eddie has a bachelor's degree in Automotive Electronics Engineering and almost a decade of experience working as a semi-truck technician (specializing in electrics).